Baku City Bike Tour
Baku is suitable for cycling all year around. Our routes always pass through the most interesting sights and museums of the city, away from the main roads and traffic jams.  We will pedal through old and modern parts of the city, along the main streets with sidewalks and bike paths, as well as interesting and amazing areas.
Highlighted Places:
A UNESCO Cultural World Heritage the Walled City of Baku (Icharisheher – Old Town), 12th-century defensive walls and Maiden Tower (Giz Galasy), 15th-century Shirvanshakhs' Palace, Old carpet museum, World's First Industrially Drilled Oil Well, ship museum on tanker, military trophies park, and many more.
Best for: riders with basic riding skills.
Accommodation: Not included / Same day return.
Physical difficulty: 1/5
Technical difficulty: 1/5
Terrain: City
Average riding distance: 20 km
Average elevation gain: 100 m
Departure: Baku, Pedalchi office
Timing: We have 4 options. But it can also be changed according to the request.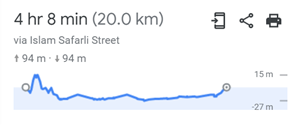 For Early Birds. 06:00 – 10:00
For Hodophiles. 12:00 – 16:00
For Evening Riders. 18:00 – 22:00
For Night Owls. 00:00 – 04:00
Included: Guide, bicycles
Not Included: Tickets, drinks, food
Price (1 person): 90 USD
Price per group (2-5 people): 60 USD